Saturday, 27 November 2021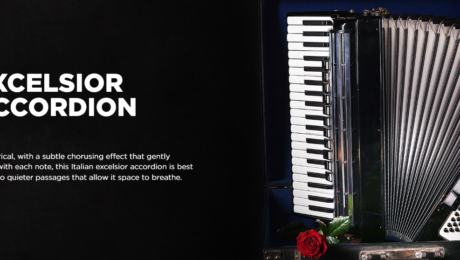 Established in New York in 1924, the Excelsior Company has long been serving the market with great accordions. The company considered expansion of their production and sales in 1948 and since then, excellent sound, quality and fine look of the Excelsior accordions have been appreciated all over the world. It was in fact noted in one of the resources that the greatest popularity of Excelsior accordions was reached after the Second World War as they became a "must" for any big orchestra with Charles Magnante and Art Van Damme as a few among the many popular accordionists who prefer Excelsior.
As commonly claimed, all of the professional models of Excelsior accordions are very prestigious instruments. The selection ranges from the top-quality 960 (922 in button), highlighting tone chamber or cassoto and five sets of reeds that appear both in treble and bass, to the lighter 911 with 610 in button that is recommended to folk and modern music players. Aside from that, there was the glorious AC, popularly known as "Continental", which has long been deemed as the one of the best accordions ever made in all times. Specifically, this model boasts its hand made sets of reeds in treble and six in bass, tone chamber, and lightest keyboard. It is these features which sets the Excelsior Continental the most appreciated by jazz and classic music lovers.
On the semi-professional side of Excelsior accordions, it is worth noting that all of the Excelsior accordions under this category are deigned and crafted according to the same quality standards applied to professional accordion manufacturing. It also covers a wide range of models which generally offered matches to any requirement that the forthgoing students or experienced amateur may have.
Just recently, Excelsior proudly introduced their new Conservatory series that is composed of six new mid priced convertor accordions. This particular series of Excelsior accordion was actually produced after many years of cooperation with teachers and professionals as well as by using only the quality materials and skilled craftsmen. This series is now well-known for its superb tonal quality and elegance that are coupled with its reasonable price.
The Excelsior accordion company today goes ahead in its tradition of quality and prestige, but all of their products are still crafted with selected materials and in accordance to the best traditional craftsmanship approaches as well. As you may know, to own an Excelsior accordion these days is like owning a prestigious instrument and following the path of the best accordion players of the past and present.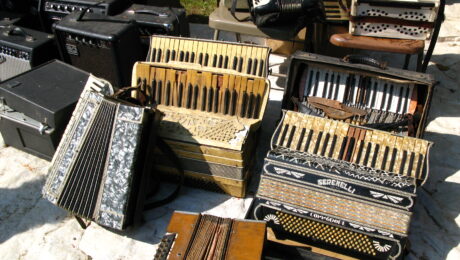 An accordion basically is a musical instrument that had gained popularity throughout its history. It belongs to the handheld bellows-driven free reed aerophone family and is sometimes known as squeezeboxes. It is played by compression and expansion of a bellows, which generates air flow across the reed. It also has keyboard controls which reeds receive air flow and therefore the tones are produced.
Physical Features
The accordion of today's world consists of a body in two parts. Each part has a rectangular shape and generally separated by bellows. On each part of the body, you will find a keyboard that contains buttons, levers or piano style keys. It is these buttons, when pressed, that travel in a direction perpendicular to the movement of the bellows, which is towards the performer. Well, it is worth noting that most of the modern accordions also have buttons that are capable of producing entire chords. This feature basically what sets concertinas' buttons from the modern accordions as the former produce only single notes.
Speaking of concertina, it is interesting to know that this instrument is just a variation of accordion, but it differs from the modern accordion as its buttons never produce chords and travel parallel to the motion of the bellows, which is then towards the opposite end of the instrument. Between concertinas and the modern accordions, there are also differences when it comes to the internal materials, construction, mechanics, and tone color, but the most interesting fact is the basic standards of sound production are identical.
Types of Accordions
Accordions generally come in a number of different styles and key-note systems. These mainly include the Diatonic, Concertinas, Chromatic, and Piano accordions. I have here below brief specifications to these types.
Diatonic: This type is frequently used by many folks and dance groups because of its great sound output, simplicity, light weight and low cost, making Diatonic one of the most popular accordions in the world. Perhaps it is nice to know that the note pattern of its keyboard is typically similar to that of the mouth harmonica.
Concertinas: This instrument is noted for its unique shape, ranging from four to twelve sides, in cross-section. It has two keyboards, one at every end of the bellows. All of the buttons are individual notes, thus there are no fixed chords on concertina. Also, the different notes and systems vary so greatly that a performer of one system will almost not be able to pick up a concertina of a different system and play it without having to almost learn it from scratch.
Chromatic Accordions: This instrument could play a 46 note chromatic scale. Its button is not diatonic and has the greatest range of treble noted of any type available these days. Its size ranges from an accordion with 20 treble keys and 12 bass buttons to the modern chromatic models which have 6 treble button rows and 160 bass buttons. This is now very popular in Russia.
Piano Accordions: So far, this instrument became the first truly standardized universal type, since the development of the Stradella bass system. This then means that a performer can play any type without a change in system, making the piano accordion the easiest type to play.